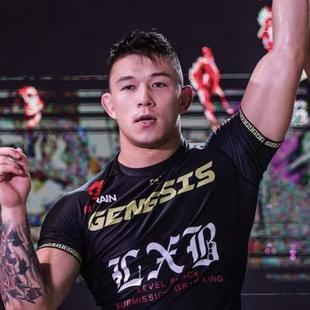 Rising black belt Kody Steele took on Gracie Barra star Edwin Najmi at 3rd Coast Grappling 5 in an action-packed match that was filled with big submission attempts and a nail-biting slam.
After some hand-fighting on the feet, Najmi made the first big move, scooping up a single-leg for a takedown attempt. Steele defended, and Najmi tried again, and though Steele defended the single-leg again, Najmi managed to chase him to the ground. Steele scrambled to get the top position, ultimately winding up in a loose triangle. However, since the competitors had tumbled out of bounds, they were reset in the center in a neutral standing position.
Steele then went for a takedown, but ended up in what seemed to be a tight guillotine. Still, Steele defended well, breaking free from the guillotine and going for a single-leg of his own. After trying to sweep Najmi's other foot out from under him, Steele lifted Najmi off the ground and slammed him nearly on his neck, getting two points for the takedown. Najmi, however, seemed unfazed and went for a leg, with Steele defending and going for a leg himself. After going out of bounds again, they were again reset neutrally.
Najmi sat and pulled half-guard, eventually coming up and chasing Steele down to impose a guillotine on him again. He switched to a d'arce as Steele tried to sprawl out, and Steele managed to get out and move to side control, where he went for a head-arm choke of his own. Though Najmi seemed to try for a buggy choke, he wasn't able to land a submission before time ran out in regulation. Steele, up on points, chose the standing neutral position to start in overtime.
Steele made the first big move in overtime with a takedown shot, though Najmi was able to avoid danger. Steele then grabbed a body lock and tried repeatedly to slam Najmi down, but Najmi was able to scramble his way out, pulling guard after going out of bounds and being reset. After neither competitor was able to get anything done, Najmi returned to his feet with about a minute left in overtime. Najmi repeatedly shot for takedowns, all of which were defended by Steele, who countered with a takedown attempt of his own. The back-and-forth action didn't yield any points or submissions, though, and OT finished with the scoreboard at 0-0.
Steele was awarded the victory by judges' decision.
Source: https://www.jiujitsutimes.com/kody-steele-defeats-edwin-najmi-in-aggressive-match-at-3cg-5/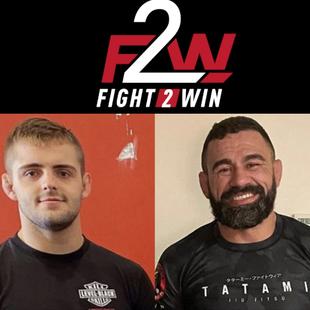 Fight 2 Win is taking a break for the holiday season after F2W 159 closed out an impressively successful 2020 for them, but don't worry — they'll be coming back with a bang in the new year.
The promotion will be opening their 2021 season on January 16 with F2W 160, which is set to take place in Miami, Florida. And headlining the show will be a match between Vagner Rocha and William Tackett.
Tackett is "just" a brown belt, but by now, anyone who's sleeping on him needs to wake up. He finished off 3rd Coast Grappling's 2020 season over the weekend by heel hooking Pans champion Fellipe Andrew in under a minute at 3CG 5, following up on an impressive performance at Subversiv 4 that saw him help take Team Level Black to the finals.
Rocha, however, isn't the type to be afraid of young "black belt hunters." The veteran grappler is known for his aggressive style, which he most recently used to defeat Jon Blank at WNO 5 via decision. Rocha is currently in the F2W win column as well following a heel hook victory over Gabriel Almeida at F2W 157, and he'll be hoping to expand on that with a win over Tackett.
Theirs isn't the only match announced for F2W 160, though — the promotion has also revealed that Gabriel Almeida, too, will be coming back to the stage, this time to face off against Pedro Marinho. Though he recently lost to Rocha, Almeida has defeated some big names on the F2W stage, including Romulo Barral at F2W 152 and Roberto Jimenez at F2W 140. Beating Marinho, though, is no easy task. Marinho, one of Gracie Barra's rising stars, was a familiar face at this year's 3CG Kumite series, and earlier this year, he defeated names like Jason Rau, Roberto Jimenez, and Oliver Taza to claim the JitzKing middleweight title.
Finally, in another big matchup, Hugo Marques will take on Atos standout Jonnatas Gracie, who earned his black belt just last year. Marques, a 2018 no-gi world champion, hasn't graced the F2W stage since his sole appearance at F2W 115, and you can be sure he'll be doing his best to make an explosive return. A match against Gracie is sure to do just that — Gracie's lone black belt appearance for the promotion saw him defeat Edwin Najmi at F2W 144 via split decision. A win so early into 2021 would be ideal for either competitor to get their year off to a solid start.
F2W 160 will take place in Miami, Florida, on Saturday, January 16, 2021 and can be streamed live on FloGrappling.
Source: https://www.jiujitsutimes.com/vagner-rocha-vs-william-tackett-to-headline-f2w-160-in-miami/